An update on our Packaging
February 11, 2021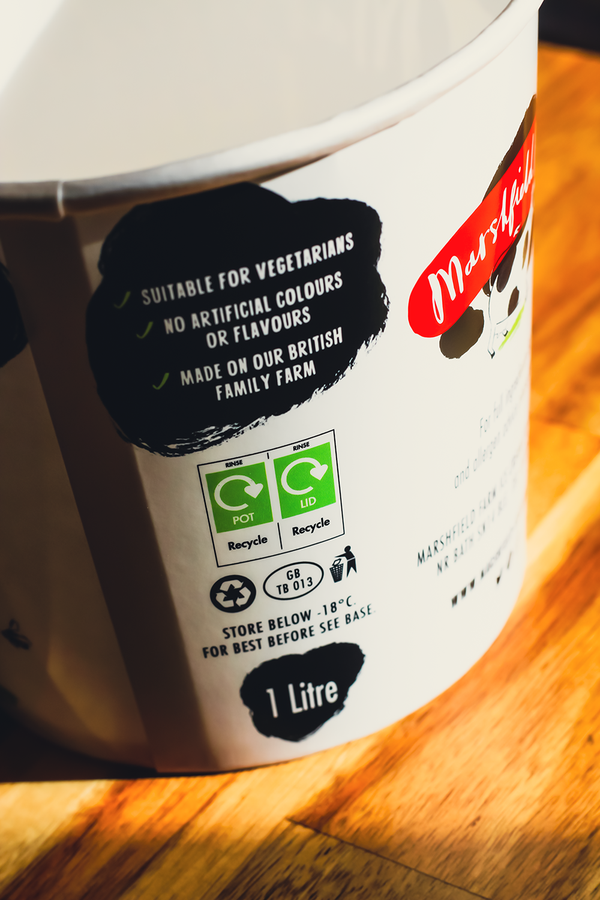 As organic farmers, we want to ensure that we leave our fields better than we found them. Our brand has a unique advantage in the ice cream industry with complete control over the quality of our product, from the highest welfare for our cows to the sustainable practices used in our factory and on the farm.
We have always been passionate about the environment and the need to preserve it. We strive to create moments of happiness and this is reflected in our packaging. We are constantly working to provide you the best option with the knowledge we have now and the waste infrastructure.
While we would love to give you the ice cream fresh from the farm, we supply thousands of accounts across the country that rely on packaging that maintains the quality and longevity of our ice cream. 
Our Current Packaging
Like most in the industry, we currently use plastic lined paperboard in our black and white cow print tubs (125ml 'mini tubs', 180ml tubs, 500ml 'sharing tubs' and 1 Litre 'Family tubs'). There are many reasons we use this material: paperboard lined tubs use less plastic that 100% plastic tubs, it is less energy intensive to produce that bioplastics and ensures our ice cream maintains a longer shelf life.
But there are alternatives on the market.
Recently, an increase in paperboard tubs with a plant based plastic lining have hit the market. At face value, this appears a more sustainable solution. It is made from plants (often corn) and it is claimed to be biodegradable, compostable and recyclable. However, as we talk to suppliers about this new material things become less clear. To help share what we have learnt, let's break down the claims for the UK market.
Biodegradable Packaging
Following a conscious move away from plastic following 'the David Attenborough effect', biodegradable materials appear a solution to marine plastic pollution. However, biodegrade materials can only decompose in landfill and therefore if these tubs ended in the ocean would continue to pollute the seas.
For any material to be biodegradable, the compounds must breakdown in landfill anywhere between 0 – 1000. This is much longer than greenwashed marketing leads us to believe, and studies have also found bioplastics release potent greenhouse gases while decomposing outside.
Compostable packaging
Compostable packaging can only be composted in an industrial composter, not household food waste or garden waste bins. This is because the materials only compost when they reach high temperatures that can only be achieved in industrial facilities. Currently very few councils have such composters. More councils are investing in industrial composters but it is an expensive investment and slow process to have these widely available.
When the correct bins are not available, adding biodegradable and compostable packaging to a dry recycling load will contaminate the plastic waste, voiding the chances of any of the plastic being recycled. The sad reality of this means that most compostable bioplastics will never be composted and will be sent to landfill. We believe that moving to this packaging, without the infrastructure in place in the near future, is not a viable solution for our customers.
Recyclable packaging
Every tub we make is 100% recyclable and every council in the UK has recycling facilities for plastics, paper and cardboard. How and where they can be recycled depends on which council. You can check what your council accepts on the recycle now website. In our paperboard tubs, it makes little difference what the coating is for the recyclability, as long as the plastic coating is below 15% total weight plastic threshold and is clean from every last drop of ice cream: they can be recycled as paper or cardboard.
After successful trials in our Plant Based Vanilla ice cream and 180ml tubs, we are moving all plastic spoons to wooden alternatives. This new spoon is made from certified sustainably managed forests and can be placed in food waste bins. The spoon will be available in all mini tubs which will also have a new card lid.
We also offer a recycling scheme for our scooping parlours. To find out more about how we can help you recycle your Napoli 5 Litre Tubs please click here
Moving forward
Without a doubt, reducing our use of finite materials and making materials from something sustainable like plants, feels like a move in the right direction. However, with the current infrastructure, we do not think that moving to a plant-based plastic would give our customers a real solution as currently no matter the lining (plastic or plant), the tubs will be treated in the same way.
We continue to work closely with our packaging partners to find the right solution for all our customers. Please reduce, recycle and reuse where you can. We've even made our very own edible ice cream tub …