It's official, Marshfield Farm is now B Corp Certified!
August 01, 2023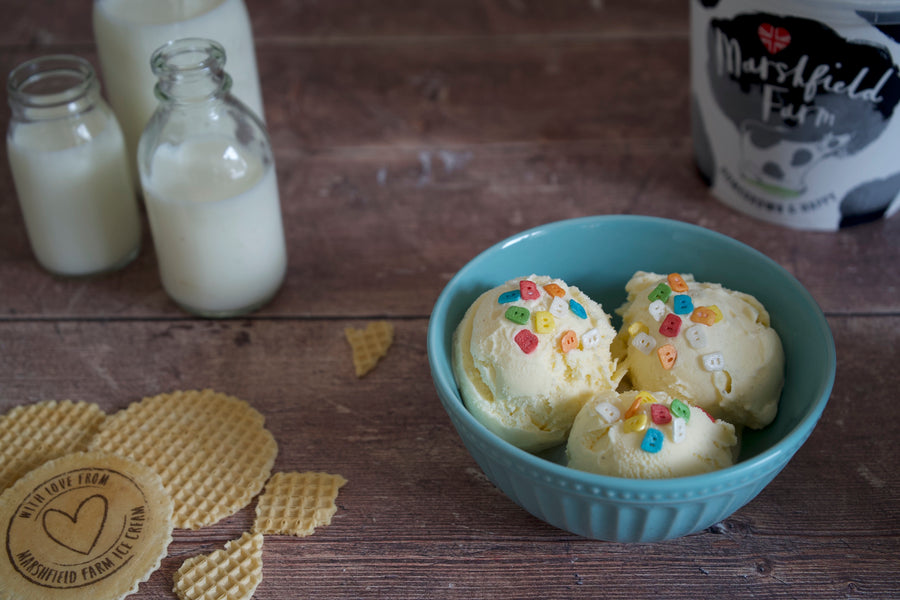 We are extremely proud to announce that Marshfield Farm Ice Cream is now officially B Corp Certified, joining an incredible community of businesses promising to balance people, the planet and profit and continuously aiming for higher environmental and social standards.
It's a very proud moment for the team who have worked so hard, and so while we tuck into a celebratory bacon bap (sourced from our B Corp friends, Jolly Hog, of course), we'd love you to take a moment and find out exactly what this means – for us and for you.
What is B Corp?
Solid first question. B Corp is a global movement committed to using business as a force for good, creating long- lasting change by balancing purpose and profit. The 'B' stands for 'Benefit for all'.  B Corp Certified businesses are committing to strive for positive change for the wider global community.
By meeting B Labs rigorous standards of social and environmental performance, B Corp certified businesses are leading the way and demonstrating their commitment to harnessing the power of business to positively impact all stakeholders: workers, communities, customers, and our planet.
Businesses are assessed and scored across these five key pillars, aiming to score a minimum of 80 points to become certified, and being reassessed every three years to ensure a continuing effort and commitment.
Our B Corp Journey
As a farm and family business, doing the best for our people and planet has always been at the heart of what we do. After all, our mission is to be the most loved ice cream of British families. We want to encourage moments of homegrown happiness for our community by making deliciously indulgent ice cream, on our family farm, while being committed to reducing our environmental impact.
For the 35 years we have been producing the ice cream you know and love, we have been working behind the scenes to make sure it is not only delicious, but also ethically made. Every tub contains organic milk, sourced from our onsite dairy farm which is Soil Association Certified Organic. The farm uses regenerative, closed-loop farming techniques to preserve the land and increase biodiversity. Our animal welfare standards have always been extremely high, ensuring our cows are happy and healthy. Our ice creamery uses renewable energy sources where possible. We support local and national charities, through fundraising and ice cream donations.
But we didn't measure it.
We realised, although we were ahead of the curve in lots of areas, we didn't have the stats and facts to allow us to shout about the amazing work we were doing. We realised if you don't know where your starting, how can you strive to do better?
We wanted to use the B Impact Assessment (the B Corp measurement tool) to verify the hard work we were already doing, gain a deeper understanding of our impact and challenge ourselves to improve.
(Feel free to pause here and grab a brew. May we suggest something from Pukka Herbs? (B Corp Certified, naturally)
Our Assessment
As we said B Corp involves a rigorous verification process, it is not an easy certification to scoop up.
For the last year our sustainability and impact manager Jemma Willins and the team have been working closely with our B Corp consultant, Kate Chapman and B Lab, the non-profit network Behind B Corp to implement changes and formalise processes to demonstrate our positive impact across the 5 key pillars. Here are some big changes we made:
Governance: formalising our team structure, setting ESG goals for the whole team
Workers: launching an Employee Assistance Programme, mental health first aid training and a social committee
Community: launching two official charity partnerships pledging to donate money, fundraise and gift ice cream
Environment: committing to ESG goals to reduce our environmental impact
Customers: using our platform to educate our network and help customers make positive changes
Each pillar is scored individually, and needs to reach a minimum of 80 points to become a certified B Corp. Most businesses that apply get 50.9.
Drum roll…
We achieved 94.4 points.
That really was the cherry on top of the sundae. Here's the full breakdown of our B Corp score, which we want to share for full transparency and to show you where we are strong, and where we'd like to continue to improve.
So what does this mean for you?
We hope that the B Corp logo will be a sign of trust for people enjoying our ice cream that we are doing the best things we can for the future.
We could not have reached this huge achievement without the support of our customers, suppliers, distributors, and friends already in the B Corp Community. Those who completed our Materiality Assessment Questionnaire, suppliers who have shared their ESG information with us, local schools who visited the farm for an education day, customers entering fundraising initiative such as our Farm Tour Charity Raffle have all helped feed into this achievement. We have learned so much about our own business and the things we can do to improve our positive impact on the world.
We want to take this knowledge forward; grown and learn together, share new perspectives, ask unasked questions, continue to build our community and driving forward our mission to create moments of homegrown happiness.
Becoming a B Corp Certified business is just the beginning, from here on every scoop is a step forward.