Our New Retail Packaging
September 13, 2021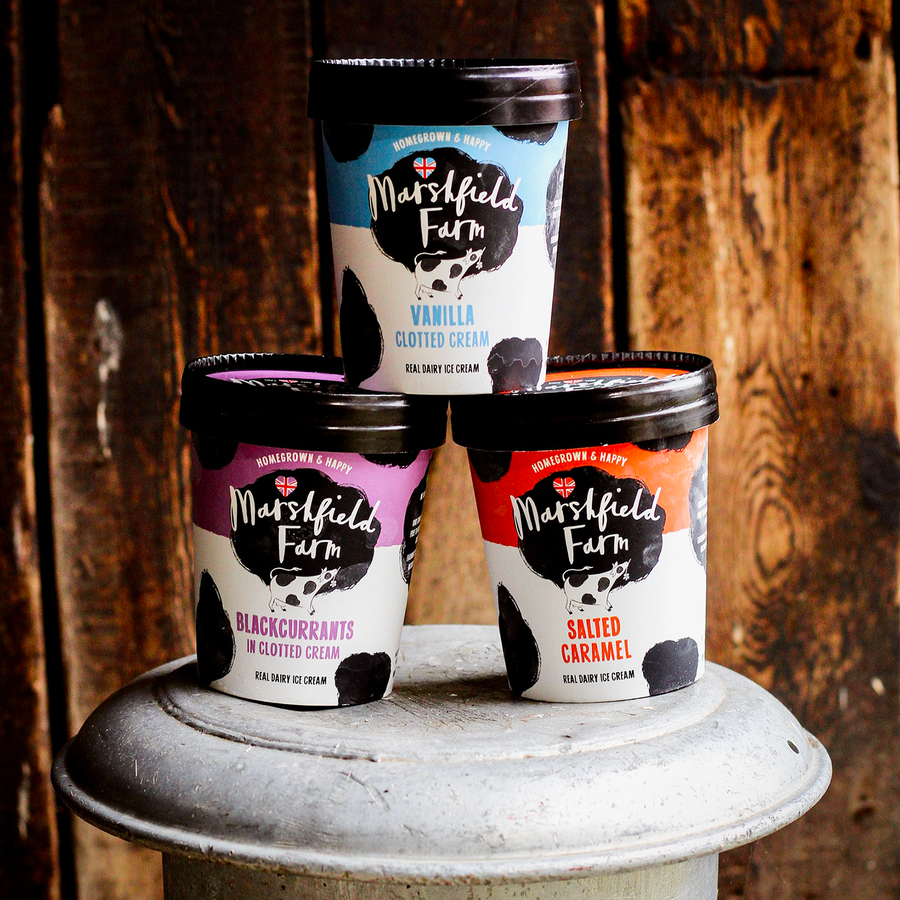 It's been almost a year in the making and we're very excited to introduce you to our NEW Retail Packaging! So without further ado, meet our NEW 500ml and 1 Litre tubs. 
Say hello to our new 500ml tubs!
Bold, vibrant and eye-catching - our newly designed 500ml sharing tubs are ready to melt hearts.
These colourful tubs have had a Marshfield makeover as we've added our fun flavour colours around each design. We're sure you'll be pointing out your family's favourite flavour in no time!
We have seven flavours available in our 500ml award-winning range:
Vanilla Clotted Cream

Strawberries in Clotted Cream

Blackcurrants in Clotted Cream

Caramel Fudge in Clotted Cream

Chocolate Fudge Brownie

Cookie Dough

Salted Caramel

And one day soon, you may also spot a 'Limited Edition' tub floating around too!
Fancy a taste? Find a retailer close to home on our Where to Buy Map!
Meet our NEW 1 Litre tubs!
Our 1 Litre tubs have never been more popular and we love sharing our galaxy of award-winning flavours in this tub size.
Important Manufacture Changes
We are now incredibly proud to say we purchase all our retail packaging from a British manufacturer!
This has greatly reduced our food miles as previous packaging was sourced from over-seas.
Our new packaging supplier uses the same card and food grade lining as previous tubs, offering the same durability and recyclability across the range. However, due to a change in machinery, you will notice our new 1 Litre tubs are slightly taller in height and narrower in width.
Homegrown & Happy
As a key part of our new design process, we sent a survey to 500 customers to gather their honest feedback about our brand and packaging designs. Thanks to your invaluable feedback, we made some big decisions about our market position.
"We are one family, one farm and one herd of happy cows. Our herd spend most of the year outdoors, free to roam on our Cotswold pastures and graze on lush grass & clover. Farming the land we love, we work alongside nature to keep the soil healthy and the wildlife buzzing."
Happy Cows
We are incredibly proud about our family farming heritage and have always been transparent about life on the farm. With our new brand messages, we want to promote confidence in our dairy farm, highlighting the highest standards of animal welfare as well as our environmental & sustainability credentials.
Homegrown
Our new packaging messages now align with our brand's purpose. Placing our farming story at the heart of our brand, we celebrate British farming – encouraging customers to support British produce as we champion local with our new Union Jack heart front and centre!
FULLY Recyclable
And finally, to help clarify how and where to recycle these tubs, we have introduced widely recognisable OPRL recycling logos across all our retail packs. This simple, consistent recycling logo is now recognised by more than 3 in 4 consumers. We hope this new addition removes the barriers to recycling and keeps our tubs out of landfill.
A NEW design for our multi award-winning Plant Based Ice Creams
Over the last few years, this range has grown from strength to strength and we now have four flavours in our multi award-winning range.
As an important part of the family, our plant based design now reflects our British farm and has the same look and feel as our real dairy & sorbet pack.
Thank you for taking the time to read about our new packaging designs and the reasons behind our core decisions.
If you're looking to become a Marshfield Farm stockist, please see our Trade pages for more information.