Powered by Green Energy
June 27, 2022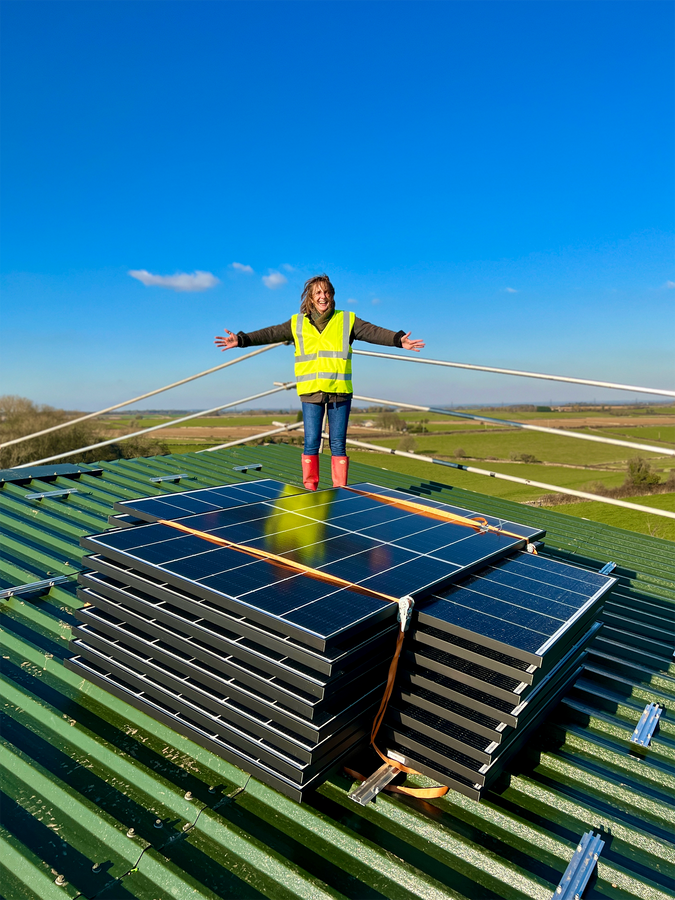 Here on the farm, Will and Dawn are constantly investing in sustainable measures to improve production and reduce our environmental footprint. We are environmentally conscious suppliers. The entirety of ice cream production happens on site and as organic farmers, we work to the highest possible standard of environmental land management, sustainability and animal welfare for our herd.
 
Built on these organic farming principles, we constantly invest in green measures to ensure ice cream production is as sustainable as possible. As part of our Bcorp journey, in 2022 we have undergone carbon foot printing of the entire ice cream business which will be used to benchmark and improve our existing production to reduce our footprint (our impact report will be available Summer 2022).
Environmentally conscious manufacturers
In the Spring of 2022, we are proud to say we increased the farm's solar capacity by a huge 230%, with an additional 1100 new solar panels fitted across our barn and warehouse roofs - this means we now have close to 1500 solar panels helping to fuel ice cream production.
This means approximately 40% of our business' energy output will be generated with our own green energy, helping us to avoid over 100 tonnes of CO2 emissions every year compared to commercial energy.
 
The installation team at Mypower put our recent installation perfectly: "It won't just be their award-winning Mint Choc Chip Ice Cream that's green."
Our Sustainability Journey: facts from the farm
Our tub packaging is 100% recyclable, 

with both 125ml & 180ml tubs made with a card lid and wooden spoon.
Our wood pellet boiler uses sustainably sourced wood chips from UK forestry and reduces our carbon footprint.

We are fully self-sufficient for water thanks to our own farm borehole.

We only ever use our herd's milk in our ice cream, this means on average over 50% of every tub is made with this fresh milk - the remainder is double & clotted cream sourced from local dairies, and ingredients free from artificial flavours & colours.
We farm in a sustainable way, embracing regenerative farming practices to restore land and increase bio-diversity.
Organic farms are proven to be havens for wildlife, and we further encourage this by planting wildflowers in our meadows, accelerating our tree planting programme (with over 2,000 trees & hedgerows planted since 2019) and housing two beehives on the farm – that's approx. 20,000 bees!
Discover more about our sustainability story on our Life on the Farm page.