Gin & Tonic Sorbet
March 08, 2018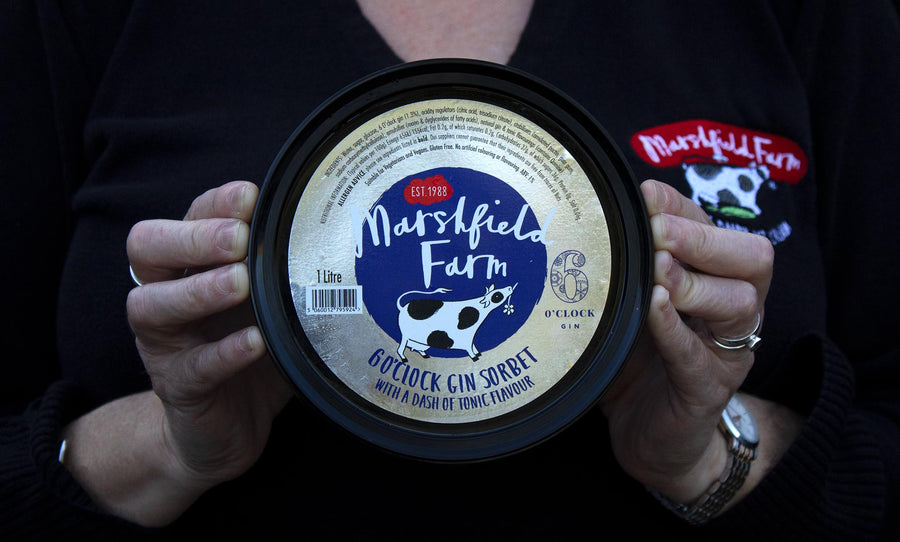 Have you heard our news? We're celebrating 30 years at Marshfield Farm!
The Hawking family have been dairy farmers at Marshfield Farm since 1971 and have been making ice cream since 1988, combining the family's passion for farming with their love of delicious ice cream and sorbets. In 2018 they will have been making real dairy ice cream for 30 years!
Every birthday deserves a celebration, but when two companies turn 30 together we knew it was a time for something special. Bramley and Gage are a small family-run business focused on making the highest quality, great-tasting spirits, gins and liqueur – the perfect collaboration for our Gin & Tonic sorbet!
Gin & Tonic Sorbet
Gin & Tonic sorbet is a refreshing flavour with a large measure of 6 O'clock Gin mixed with a dash of tonic flavouring. This sorbet is made using all-natural ingredients and the smooth, clean taste of this premium gin carries a noticeable alcoholic kick.
6 O'clock Gin is a premium gin from Bramley & Gage, producing a smooth juniper flavour with a fine balance of botanicals including coriander, orange peel and elderflower. The bittersweet taste of this London Dry Gin is the perfect flavour for the celebration sorbet.
Dawn Hawking, owner of Marshfield Farm Ice Cream, says
"We thought our 30 years needed to be marked and what better way than with a celebratory sorbet packed with top quality, local gin! From historic palaces to beach side cafes, cinema and theatre venues and of course in our own summer parlour, our customers will be raising a tub or two this year in celebration of this wonderful achievement."
Suitable for vegetarians and vegans, the award-winning sorbet range is free from artificial flavours and colourings. Gin & Tonic sorbet is made using glugs of real gin, giving the sorbet a 1% ABV.
This celebration sorbet is available in 1 litre, 2 litre and 2.4 litre tubs; in Spring the flavour will also be packaged in 125ml tubs, perfect for theatres and special occasions.