Marshfield Materiality Assessment
April 14, 2023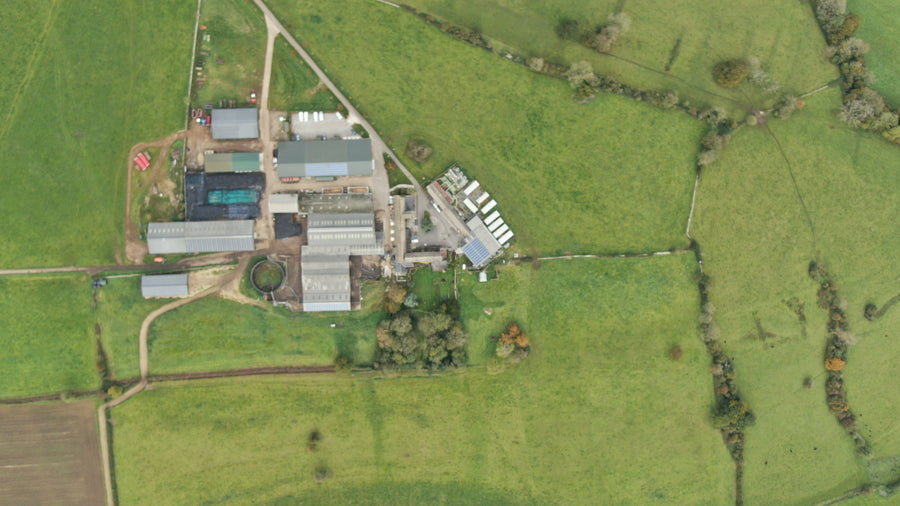 Marshfield Materiality Assessment: What Does It Mean?
As a family business, doing the best for our people and the planet has always been at the heart of what we do, after all, our mission is to be the most loved ice cream of British families. We want to encourage moments of homegrown happiness for our community by making deliciously indulgent ice cream, on our family farm, while being committed to reducing our environmental impact.
We choose to use regenerative and closed-loop farming techniques to give our cows the healthiest and happiest lives, we use renewable energy sources where we can, including our solar panels and wood chip boilers. Last year, we worked with a specialist agency, 3Keel, to measure our carbon footprint to understand the impact we have, and the changes we could start to make to reduce it, and we have always supported causes close to the hearts of our staff and local community. To us, using ice cream as a force for good has aways been important.
While we are proud of what we have achieved so far, we are eager to be better and do better. We know ice cream can't change the world on its own, but we hope by doing our bit and helping our communities to do there's too, we can make a real difference. 
With that in mind, we set out to gain a deeper understanding on the true impact of Marshfield Farm – who and what we impact and how we can improve it. And so we started our journey to becoming a B Corp Accredited business.
B Corp is a certification that balances people, plant and profit, ensuring purpose and being a force for good, is at the heart of every business mission. We are very excited and proud to be on the journey with so many incredible businesses wanting create positive change. You can read more about B Corp and what it means for businesses here! 
So... what is a Materiality Assessment? 
By starting our B Corp journey and embedding a commitment to be a force for good into our governance documents, it was vital to us to check in with you, our community and stakeholders to find out which aspects of our social and environmental performance were most important. Officially, this is called a Materiality Assessment. The aim is to prioritise issues that are the most important, and where we as a business can make the most impact for the future. 
The Survey 
We are not experts in sustainability, so using the tools around us including the United Nations Sustainability Goals, our B Corp consultant, Kate Chapman and of course, our trusty guiding light, the B Corp Impact Assessment tool we put together a list of questions to include in our materiality assessment. Asking what is most important to you, our community.  
While every social and environmental topic is important to us, we want to dedicate our full attention to those areas where we feel we can make the biggest positive impact.
Should we be focusing on animal welfare, or sustainable packaging, using renewable energy or the carbon footprint of our ice cream flavours? You voice matters to us and it was vital we asked for your views! 
Once we had our list of questions, we built our 'Helping to shape the future of Marshfield farm Ice Cream' questionnaire. We shared it across our newsletters, our emails, our social media, and our Marshfield team and you didn't let us down.   
We were overwhelmed by the amazing response from our lovely community of over 700 responses from suppliers to our top 30 customers, to employees to prospective stockists. With an abundance of interesting and fruitful responses and comments along the way!  
The Results
Materiality Assessments are shown as a graph known as a Materiality Matrix, comparing topics of focus with the priority of stakeholders. Based on the numerical results of the questionnaire and materiality assessment, we plotted our topics from moderate to high importance.  
As you can see on the Matrix, there are some clear topics that are most important to you! 
The results of our Materiality Assessment and the comments that accompanied it have been invaluable in guiding our priorities and strategy for our biggest, brightest, most impactful year yet, and all those ahead! 
What's Next? 
After many hours of huddling around the farmhouse table dissecting the results, any many more to come, we have started to map out our key sustainability targets for 2023 and beyond. We will continue to strive towards being a force for good for our people and our planet in the following ways. However, for now our next steps and key focuses are:
Formalised ESG strategy with key sustainability targets and metrics

Explore supporting

 our farm 

in becoming

 

RSPCA Assured certified to increase animal welfare standards 

Create a carbon footprint reduction plan

Explore implementing an Environmental Management System (EMS)

Work with our team to support a healthy work life balance and improve employee wellness 

Increase advocacy and education around sustainability
Like every business, we operate in a fast-changing world that brings new challenges and opportunities every day. We expect the topics we focus on and measures we report to adapt and expand over time as we seek to improve our understanding of our social and environmental impact, as well as our stakeholders' changing expectations on how we address these topics. While we won't always get it right, we promise to try our very best, continue to strive for improvement, and be transparent.  
Here at Marshfield Farm Ice Cream, we are One family. One farm. One herd, and you are all part of that, we hope you will join us on this journey to learn and growth together. Have a read of our first ever impact report or head over to our sustainability page to learn more!