NEW for 2019: Birthday Cake Ice Cream!
February 19, 2019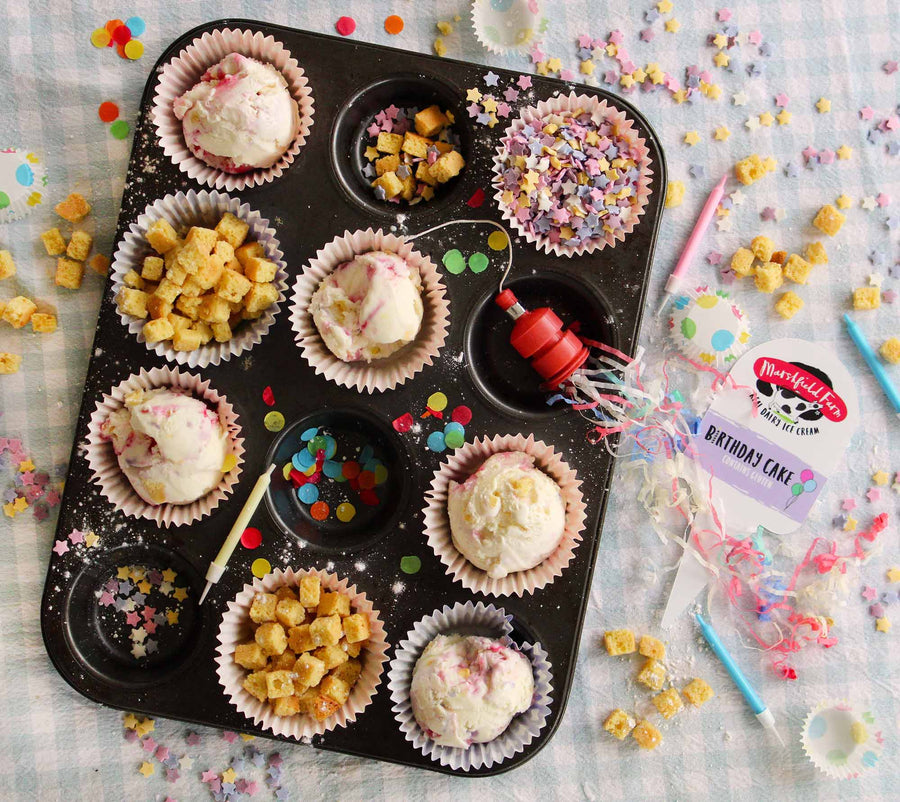 We've been mixing up a new flavour at the farm and we're very excited to announce the launch of Birthday Cake ice cream!
Did you know 2018 marked our 30th Birthday of making ice cream at Marshfield Farm? Amid the party poppers, helium balloons, Gin & Tonic Sorbet and over-played Happy Birthday songs, it was during our birthday celebrations that we got the inspiration for our newest scoop ...
Marshfield Farm Birthday Cake ice cream is a vanilla cake flavoured ice cream, full of chunky sponge cake pieces perfect for those birthday celebrations. For extra fun, we've swirled star sprinkles and a strawberry flavoured shimmer-ripple through every scoop.
We know this flavour will be a hit at all the children's parties and, with a rich creamy flavour, it's perfect for adults too! Candles may look snazzy on cakes, but why not turn-out your 1 litre Birthday Cake tub and light your sparklers on top of your very own frozen ice cream cake.
How will you serve your celebration scoop? Here's a few of our ideas we'll be trying:
Perfect for children's parties, jelly and Birthday Cake ice cream is the perfect combination
Mix things up in your parlour and blend two scoop with a glug of milk for rainbow-inspired milkshake (why not call your colourful creation Unicorn Cake Shake?)
Up-sell your scoop in a Celebration Cookie Sandwich or served scooped on a freshly toasted Birthday Cake Belgium Waffle freshly toasted Belgium waffle
And finally, scoop your ice cream in a glass and create a masterpiece like our Celebration Sundae recipe here
We hope you get to try our new flavour soon and you enjoy it as much as we do. For full allergen information please see our
flavour page
with full nutritionals and ingredient spec. This flavour is now available in 1 litre, 4 litre and 5 litre tubs. Talk to your Marshfield rep for small POS items to promote this product.