Tree Planting Programme at Marshfield Farm
August 24, 2020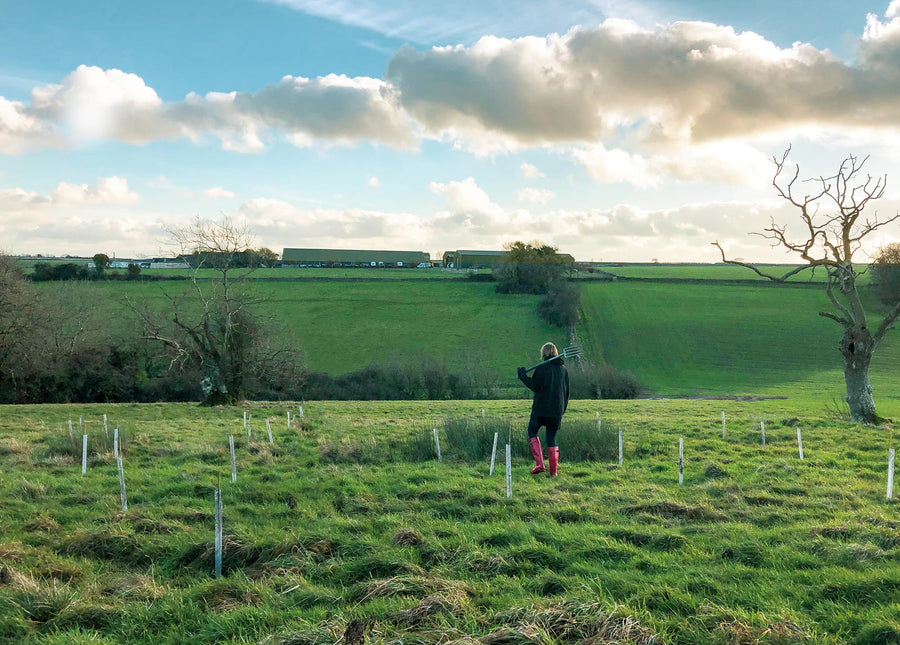 We began planting trees in December 2019 and have had lots of help along the way! The Hawking family, our farmers, office staff and (prior to lockdown restrictions) even external volunteers have been incredibly supportive visiting the farm to help us with our tree planting programme.
We are thrilled to announce that independently we have planted over 1000 hedge whips and several hundred trees of native varieties, including: Oak, Field Maple, Beech, Rowan, Crab Apple and Silver Birch.
Each tree has begun life on our farm as small 'whips'. We've encased these whips in tree guards (sourcing bamboo tree guards where possible in replacement of plastic guards). Our larger trees that have been planted are encased in mesh - this is to protect each tree from deer that roam our fields and might damage the young trees as they explore the land.
As organic farmers, animal welfare and our environmental impact is very important to us. Organic farms are proved to be a haven for wildlife and we're thrilled that with this new project, we'll be encouraging biodiversity on our farm-land by creating natural homes for birds, insects and foraging wildlife.
Where are the new trees planted?
We have over 1,100 of farm land and the trees have claimed a space along many of our fields.
As you travel down our farm track, you'll be able to see our new trees growing in fields across the farm. When our parlour reopens, we have plans to open a section of our new tree haven to visitors (both human and dog!) to relax and take in the Cotswold hills. If you can see the farm from the road leading to Marshfield village, you might also spot trees growing next to our cow shed.
Support from South Gloucestershire Council
In 2019, South Gloucestershire Council announced a climate emergency and has pledged to prove the leadership to enable South Gloucestershire to become carbon neutral by 2030. One way in which they are tackling this is to double tree cover by 2030.
South Gloucestershire Council have very kindly provided our farm with 90 trees of native British species including Oak, Lime and Rowan. On top of this, we have independently planted 1,000 hedge whips across the farm and a further 300 trees!
Sally from Biodiversity in South Gloucestershire Council has spoke to us about the council's carbon goals and support on offer for businesses to reduce their carbon impact.
"In the South Gloucestershire Tree Asset Management Plan we stated an aspiration to increase tree cover by 4% (taking us from 11% - 15%). However, the climate emergency and ash die back have increased this aim to doubling tree canopy. Canopy cover includes individual trees, woods, copse, hedges and orchards - the right trees in the right place.
We have been planting 4,500 trees from the Woodland Trust on our own land over the 2019/2020 winter season and plan to continue over the next two years at least.
Tree Week involved parish councils and council staff and we're hoping to continue that again 2020 in some format. Quite how we engage and support landowners and the wider community is something we're currently investigating. We're very encouraged by the level of interest shown and look forward to working with all sort of partners on some positive projects for wildlife, people and climate."
We'll continue to bring you updates on our tree planting on the farm over the years, but in the meantime, discover more of our green projects, measures and how we farm our land across our website including our Sustainability Page.