The best thing since sliced bread!
June 27, 2023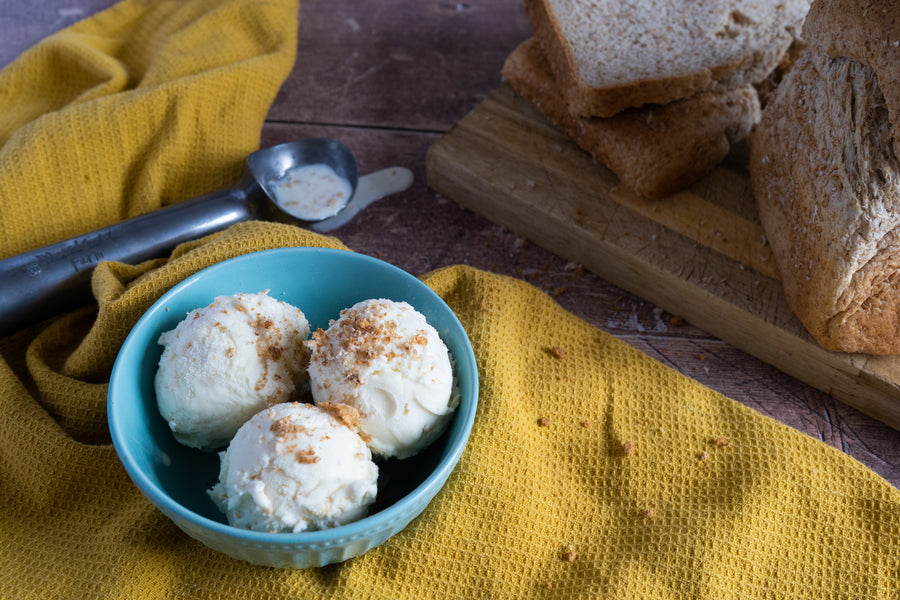 We are so excited to launch our latest flavour: Brown Bread ice cream in partnership with English Heritage.
When creating new flavours, we love to take inspiration from classic British family favourites, but last year, the team at English Heritage challenged us to create a flavour inspired by history and bring the flavours of Georgian England to life.
There were many different ice cream flavours that were popularised in the 18th Century, including chocolate and pistachio, but also some more unusual flavours including artichoke, candied pumpkin, pine nut and of course, brown bread! 
We got to work creating four unique flavour options: Brown Bread, Marmalade, Pineapple and Black Tea. After a thorough tasting panel with the team at English Heritage, Brown Bread was chosen.
Our latest edition has brown breadcrumbs scattered through an indulgent double cream ice cream, made with fresh milk and finished with pieces of digestive biscuits. The result? A malty, moorish ice cream letting your tastebuds take a step back in time. 
Take a step back in time with food historian, Dr. Annie Gray, as she explores the history of ice cream and why Brown Bread ice cream was created!
Why not try pairing it with Chocoholic Heaven and some chocolate sauce for a malty, chocolate biscuit sundae? 
To try Brown Bread ice cream, you can head to English Heritage sites across the country including:
· Stonehenge, Wiltshire
· Osborne, Isle of Wight
· Audley End House and Gardens, Essex
· Scarborough Castle, North Yorkshire
· Brodsworth Hall and Gardens, South Yorkshire
· Witley Court and Gardens, Worcestershire
· Tintagel Castle, Cornwall
· Kenilworth Castle and Elizabethan Garden, Warwickshire
· Belsay Hall, Castle and Gardens, Northumberland
· Dover Castle, Kent
· Wrest Park, Bedfordshire
· Kenwood, London
· Pendennis Castle, Cornwall (from July)