Scoop's New Mint Ice Cream for Dogs
March 11, 2022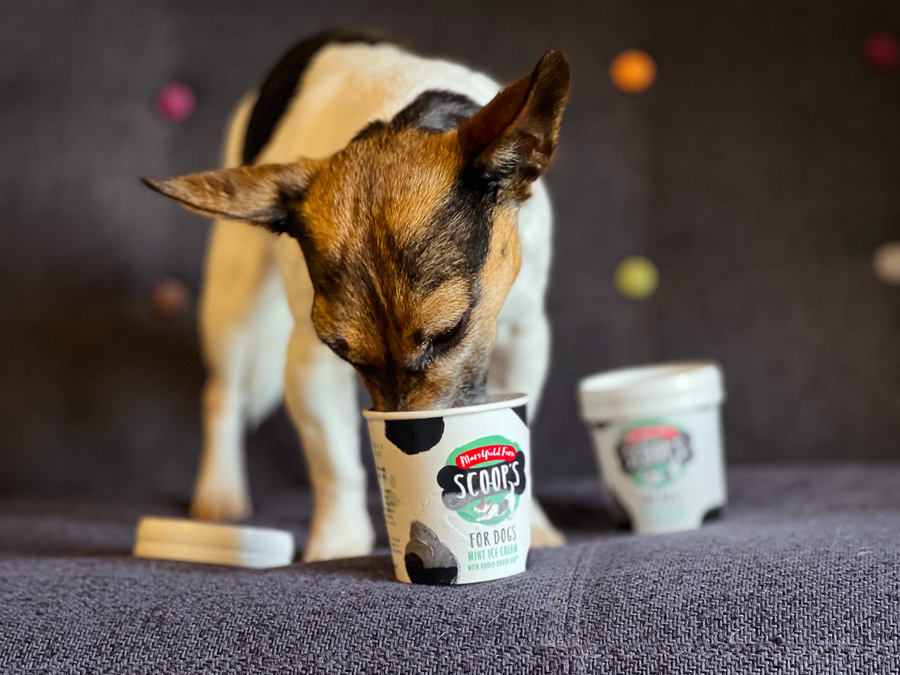 Scoop's got a new favourite flavour! Introducing our *NEW for 2022*
MINT

flavoured Scoop's Ice Cream for Dogs! 
Specialist dog-friendly recipe
Just like our classic vanilla flavour, our new mint flavoured Scoop's ice cream is made to a dog-friendly recipe with reduced lactose milk. We make our Scoop's ice cream is our factory here on the farm, and we're incredibly proud to be the first (and only!) dual-license factory in the UK - this means we're able to make both human and dog ice cream in the same ice creamery.
Discover more about life on the farm.
With added dog food supplements
Just like our classic Vanilla flavour, we've made sure our dog-friendly ice cream is not only tasty for our four-legged friends – it also has the added bonus of additional food supplements!
Our new mint flavoured ice cream is made with added Odour Aid for Dogs from our industry leading, pet food specialist friends at
GWF Nutrition
. This is a natural breath freshener with chlorophyll and omega 3 that helps fight nasty bacteria in the mouth and gut.
You can find out more information on both of our Scoop's flavours on our dedicated
Scoop's Ice Cream for Dogs website page
. 
Where to Buy
It's Scoop's new favourite flavour and we know it will get your furry friends tails' wagging too.

Available now, ask your local stockist for a tub of our new mint flavoured dog ice cream.
Take a look at our Scoop's Where to Buy Map to hunt down a stockist on your next adventure.
Home Delivery 
Both of our Scoop's Ice Cream for Dogs flavours are available for delivery anywhere in the country!
Local Home Delivery: our full Marshfield Farm flavour range available hand-delivered by our DeliverMOO Drivers to postcodes surrounding the farm including Bath, Bristol, Wiltshire and South Gloucestershire.
National Home Delivery: a monthly selection of favourite flavours, available posted anywhere in the country! Find this month's flavour range on our Home Delivery page.
Please note, for every order made throughout March for Home Delivery (both locally and nationally), we will donate £5 to the British Red Cross to help those who need it in Ukraine. We will share the total we've raised at the end of the month so please make sure to sign up to our email marketing on your next order for more information.