Taste of the Theatre Fundraising Mix
November 26, 2020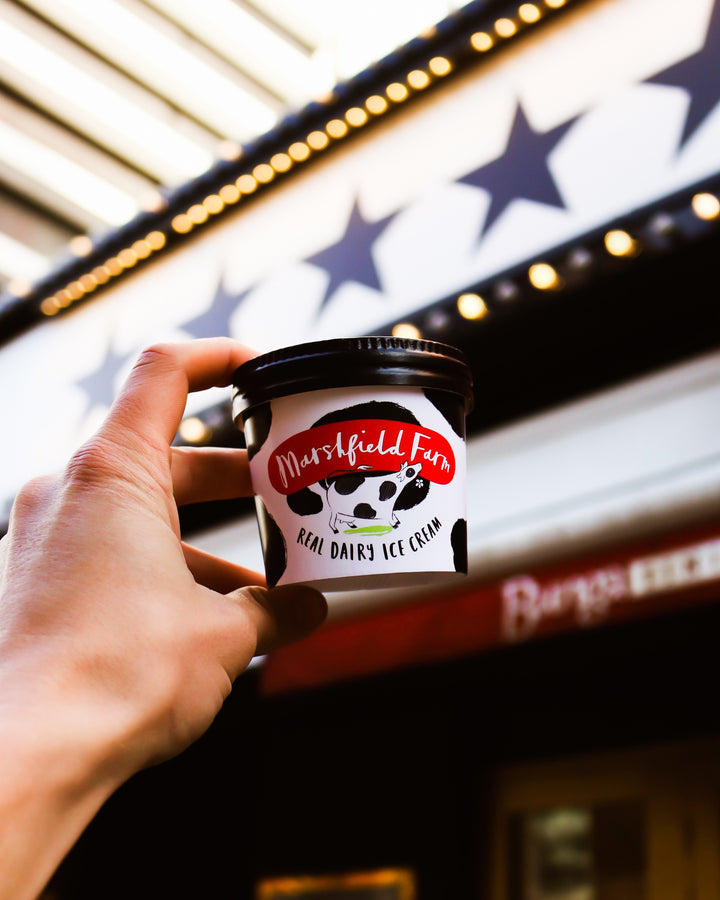 Here at Marshfield Farm, we have long been enjoyed as an interval treat by thousands of theatregoers.
In fact, many of you will have had your first taste of our ice cream at the theatre. We can be found in many theatres up and down the country, including the London Palladium, Blackpool Winter Gardens, Bath Theatre Royal, Theatre Royal Newcastle Upon Tyne, HQ Theatres and lots more.
While the forced closure of theatre curtains continues to cause turmoil across the industry, we wanted to continue to support the arts in the only way we know how... by bringing a sprinkle of Theatre magic into people's homes.
Working closely with our partners, LW Theatres, we have introduced a new 'Taste of the Theatre Mix' into our home delivery service. This new mix, the first time our 180ml tubs have been sold online, is fundraising for the Theatre Artists Fund, a charity which supports struggling theatre professions in times of need.
Introducing: A Taste of the Theatre
Over the traditional pantomime season, a 180ml mixed ice cream bundle will be available to order on our Online Shop for delivery across the country. To do this,  our ice cream is wrapped in sustainable insulation, packed with dry ice and posted for next-day delivery across the country.
This exclusive 'Taste of the Theatre Mix' contains four best-selling theatre flavours: Vanilla Clotted Cream, Blackcurrants in Clotted Cream, Mint Choc Chip and Chocoholic Heaven. The mix will be available for £10, with every purchase donating £2 to the Theatre Artists Fund. You can find the 'Taste of the Theatre Mix'
Visit our Online Shop and Order our Ice Cream From Field to Front Door
About the Theatre Artist Fund
The Theatre Artists Fund has been set up to provide emergency short-term relief to hundreds of theatre professionals, particularly those from underrepresented groups, who are in need of urgent and critical financial support due to the devastating impact of Covid-19 on the theatre sector. 62% of 632 grant beneficiaries so far said the money helped them put food on the table, but there are many more who are desperately in need right now.

We look forward to delivering our new product to your homes all for a fantastic cause to support an industry in need.
Dawn Hawking, owner at Marshfield Farm Ice Cream, says "We have been making our ice cream for other 30 years and we have always found a home in theatres. It is devastating to watch the arts navigate this turmoil and by introducing this new fundraising pack to our ice cream deliveries, we are dedicated to supporting all our stages and those who work within the industry." 
For full media coverage information, please contact our team marketing@marshfield-icecream.co.uk