LW Theatres' Official Ice Cream Partner
January 20, 2020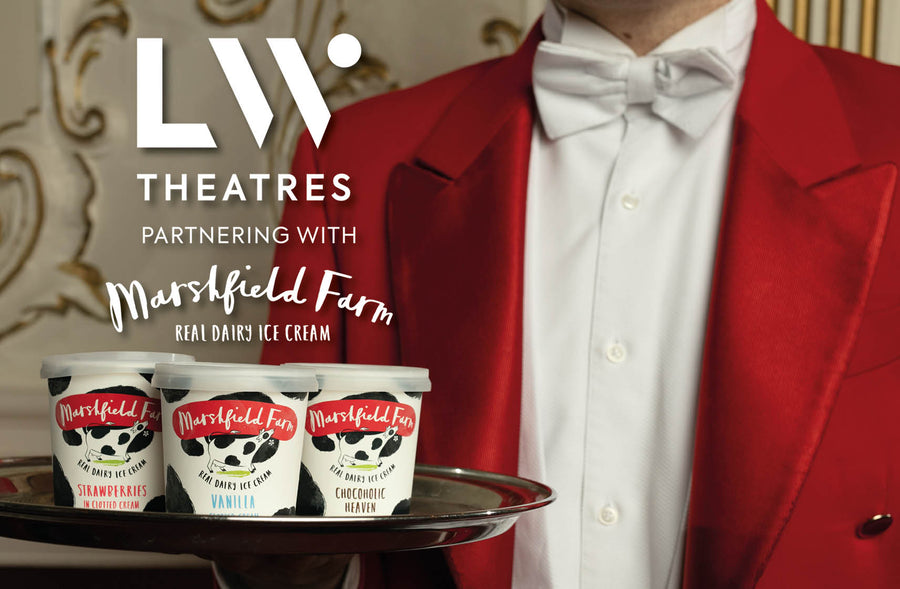 We're incredibly excited to announce we've won a three year partnership deal with LW Theatres!
Here at Marshfield Farm ice cream, we're dedicated to making family memories with our real dairy ice cream and we are so excited that this magical partnership puts our tubs at the heart of London's West End.
This partnership deal means Marshfield Farm ice cream is the Official Ice Cream supplier to all seven of LW Theatres' venues:
The London Palladium
Theatre Royal Drury Lane
Cambridge Theatre
Adelphi Theatre
Gillian Lynne Theatre
The Other Palace
and finally, Her Majesty's Theatre!
Do you recognise any of these iconic venues? Shows featured at Andrew Lloyd Webber's theatre venues over the years include Phantom of the Opera, Matilda the Musical, School of Rock, Joseph and his Technicolour Dreamcoat and Waitress the Musical to name a few.
If you're visiting one of LW Theatres for any of their spectacular shows, you can now indulge in a tub of our ice cream during the interval! Flavours on offer include: Vanilla Clotted Cream, Salted Caramel, Chocoholic Heaven and (our biggest award-winner) Blackcurrants in Clotted Cream!
About LW Theatres
Included below is a brief overview of LW Theatres, taken from their website: www.lwtheatres.co.uk/
Owned by theatrical visionary Andrew Lloyd Webber – who has created some of the world's most popular and timeless musical productions – we know a thing or two about staging the spectacular. Since we started up back in 1977, our passion and pride for what we do has seen us become the largest operator of musical theatres in London. With one in three audience members at a London musical walking through the doors of our West End theatres, chances are, if you've seen a musical in the capital, you've been to visit us!
Jules Arnott, Chief Commercial Officer, at LW Theatres said:
 

"Ice cream at the theatre is a British institution so getting the right partner in place was important. The partnership with Marshfield Farm was an obvious and natural fit - they have a wonderful business ethos and, as another British family-run business, share similar values.

Customer experience comes first at LW Theatres and I'm delighted to be able to offer our patrons a great quality, delicious-tasting product to enjoy when watching a performance with us."
We are absolutely thrilled to work closely with LW Theatres and we can't wait to share a touch of Marshfield Magic with you on your next visit.