Big Night In Plant Based Brownie Sundae
October 15, 2020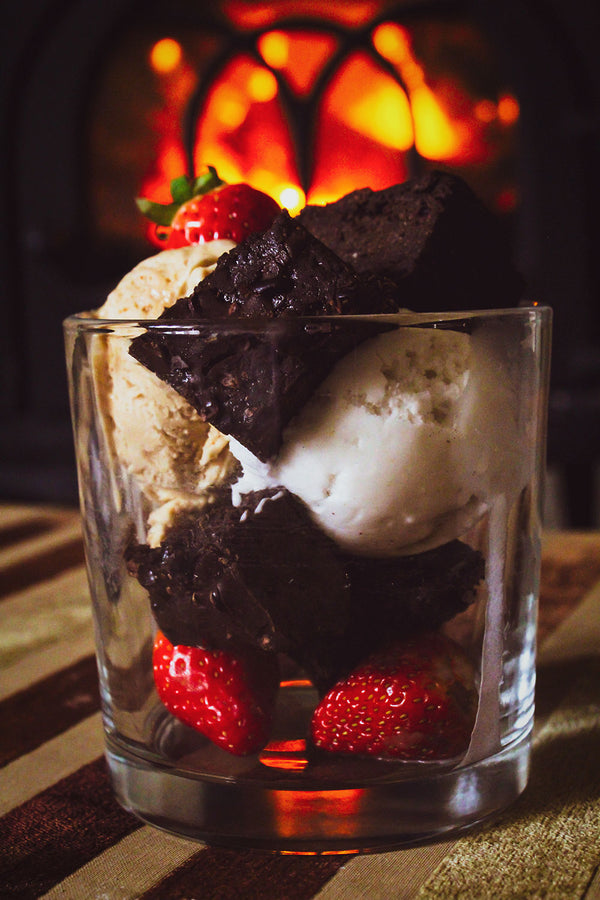 Welcoming Bakesmiths Bakery Dark and Story Chocolate Brownies to our Marshfield Farm home delivery service! Made with the darkest chocolate, these luxury chocolate brownies are gloriously gooey and BURSTING with bold cocoa flavour. Available while stocks last, add a box to your basket and create a feast that the whole family can enjoy.
Serving Suggestion
Heated up and served with a scoop (or two!) of ice cream, we think these brownies might just be the perfect pudding on a cold and wintery evening. Every member of the family has a favourite flavour and we know you'll scoop the perfect ice cream topping for your brownie. Keep it simple and decorate your brownie & ice cream duo with a drizzle of melted chocolate for a final chocolate hit. And for those who want to LEVEL UP their desserts, we've scooped up the perfect sundae just for you ...
Marshfield Farm Top Tip

These brownie slices are suitable for a vegan diet and that makes them the perfect pairing for our new Plant Based Ice Cream flavours! Indulge in a decadent dessert made without milk and scoop up our Plant Based Vanilla and multi Award-Winning Plant Based Salted Caramel Ice Creams for your dreamy dessert.
Ingredients
To make this sundae, you will need:
2 - 3 scoops of ice cream
1 chocolate brownie
a handful of fresh fruit (we love strawberries)
Toffee or chocolate sauce, or a drizzle of melted dark chocolate!
Method
Allow your Bakesmith brownies to defrost for 30 minutes, then zap in a microwave for 15 seconds to warm through
Break your brownie into chunks and begin to layer the pieces in your serving glass. As you work up your glass, add your fresh fruit and scoop in your ice cream flavours. Repeat this process until you have used all your ingredients
Finally, drizzle your flavoured sauce on your showstopper and tuck in!